Our Distribution Partners
The Appetite Automatic Pap Maker Deluxe - Twilight Black
by Appetite SA
Regular price

R 2,799.00
Sale price

R 3,500.00
Pickup currently unavailable
Share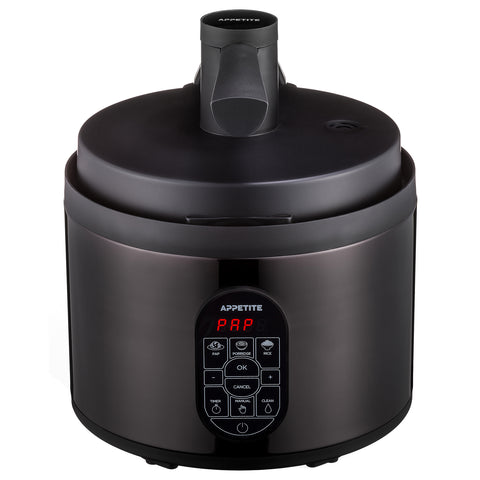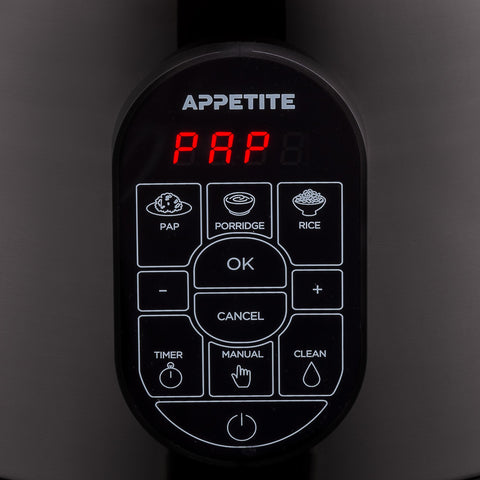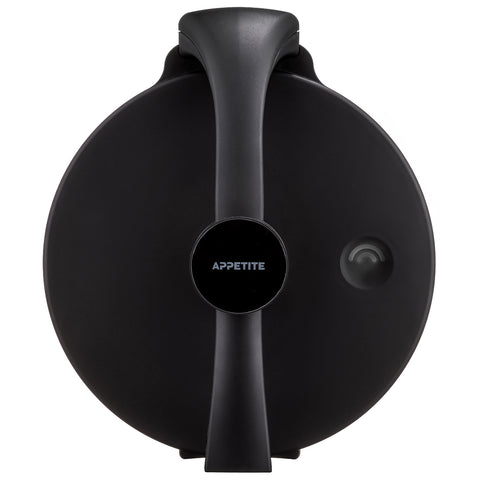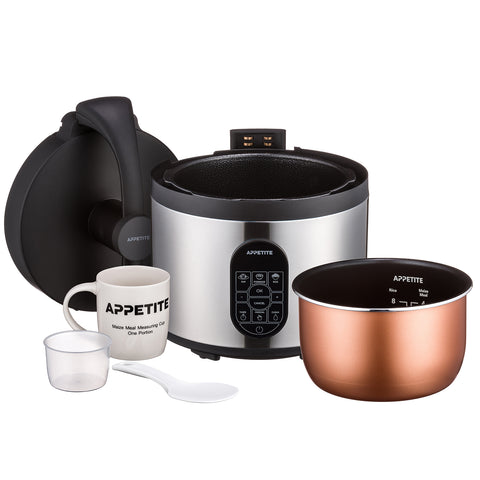 *Free Shipping to Major South African Cities
Introducing the Appetite Automatic Pap Maker, the smart cooker that will revolutionize your cooking experience. With the ability to cook many dishes, this appliance is a must-have for any kitchen. Safety is a top priority, and you can trust that the Appetite Automatic Pap Maker will keep you and your loved ones safe while cooking. Not only does it save you time, but it also ensures that you get perfect pap every time.
This versatile appliance is designed to simplify your cooking process by replacing many of your kitchen gadgets with just one device. With a range of cooking functions, The Appetite Automatic Pap Maker allows you to cook different types of meals with ease, from soups and stews to rice and pasta dishes.
The Power Microchip and Smart Cooking System work together to create the perfect pap. The Power Microchip regulates the temperature and cooking time, while the Smart Cooking System ensures that your pap is cooked to perfection. You can trust that your pap will be delicious and perfectly cooked every time.

With the Appetite Automatic Pap Maker, you can say goodbye to the hassle of cooking pap on the stove. This appliance is easy to use and will save you time and effort. Whether you are a seasoned cook or a beginner, you will love the convenience and ease of the Pap Maker.

Investing in the Appetite Automatic Pap Maker is a smart choice for anyone who loves pap. You will enjoy perfect pap every time, and the smart cooking system will make your life easier. Get your Pap Maker today and experience the convenience and deliciousness of perfectly cooked pap.
Summary of Features:
The world's first fully automatic, fully self-contained, pap making functionality
Smart cooker that combines 6 kitchen appliances in one. Automatic Pap Maker, Automatic Porridge Maker, Automatic Cleaning, Automatic Rice Cooker, Manual (Multi Cooker) Function and Timer Function
Powerful but safe low voltage DC electric motor with stainless steel driveshaft
Automatic Self-Cleaning function
Automatic Rice Cooker function
Timer function
Advanced microprocessor continuously monitors temperature, keeps time, and adjusts heating intensity and duration to achieve desired results
Manual (Multi Cooker) Function — Soup/Broth, Meat/Stew, Bean/Grain, Egg, Sous Vide, Slow Cook, Rice, Porridge/Oatmeal, Steam, Sterilize, Yoghurt, and Keep Warm
Easy-Seal lid seals automatically once closed and release steam only at the steam vent
Large control panel features touch sensor function
Features a high-quality non-stick inner pot with 3-ply bottom for even heat distribution, which allows for healthier cooking and is extremely durable — no harmful chemical coating
Fully automatic rice program adjusts time according to rice quantity
Converts to a slow cooker with adjustable heating programs
Keep Warm mode that keeps food at the perfect temperature until you are ready to eat
Safety system offers ultimate protection with 6 proven safety mechanisms and patented technologies
Inner Pot and Stirrer is easy to clean and dishwasher safe
Lid stand incorporated in the design
 For how to videos, visit https://appetite-sa.com/pages/how-to-videos
What's in the box
Cooker Body
User Manual and Warranty Card
Inner Pot
Lid
Measuring Container
Sealing Ring (Fitted in Lid)