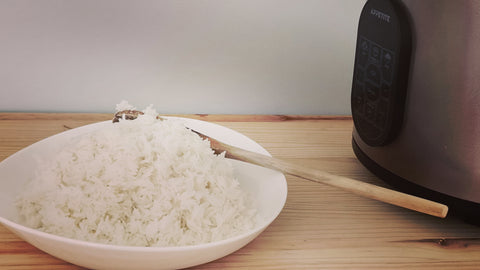 How to Cook Perfect Rice in a Multi Cooker
Cooking rice in the APPETITE Automatic Pap Maker Deluxe is an easy and convenient way to prepare rice perfectly every time. Here are the simple steps to follow:
Measure the rice: Measure the desired amount of rice using the APPETITE Rice measuring cup and place it in the inner pot of the

APPETITE Automatic Pap Maker Deluxe

. Only use the measuring cup that comes with the APPETITE Automatic Pap Maker Deluxe for accurate measurements.
Rinse the rice: Rinse the rice with cold water until the water runs clear. This removes excess starch and helps prevent the rice from becoming sticky.
Add water: After you have drained the water used for rinsing. Add the appropriate amount of water to the inner pot according to the

Rice

water level indicator on the side wall of the cooking vessel. i.e. The correct water level for 3 cups of rice is 3 under

the 

Rice

 water level indicator. 

 
Add seasoning (optional): You can add salt or other seasonings to the rice at this point, according to your preferences.
Remove the stirrer from the lid of the APPETITE Automatic Pap Maker Deluxe
Close the lid: Place the cooking vessel into the APPETITE Automatic Pap Maker Deluxe and close the lid securely.
Select the cooking mode: Select the "rice" function on the user interface.
Start the cooking cycle: Press the "OK" button to begin the cooking cycle. The rice cooker will automatically switch to Keep Warm mode once the rice is cooked.
Let the rice rest: Allow the rice to rest for about 10 minutes after the cooking cycle is complete. This allows the rice to absorb any remaining moisture and fluff up.
Serve: Fluff the rice with a plastic fork and serve it hot. 
By following these simple steps, you can cook rice perfectly every time using the APPETITE Automatic Pap Maker Deluxe. Enjoy your delicious and fluffy rice!